They Can Run, But You Can't Hide…
Delivering Court Documents With Ease and Efficiency
Courtesy Process Servers Miami
Do you need a service of process in Miami? You've come to the right place. All of our Miami-Dade process servers are trained and certified. We take a professional approach to the serving process.
Courtesy Florida Process Servers Miami has been serving the legal community as well as the private sector in the Miami, Florida area for over twenty years.
We offer fast, reliable, and affordable execution of your documents. Our private process servers are professionals who are certified. Along with our reasonable fees for service, you get "added value" that includes our staff of licensed servers substantiates our high standards of work ethics, and is skilled enough to handle "hard serves."
Courtesy Florida Process Servers Miami has an office located in downtown Miami, Florida, so our team is well-versed in Miami-Dade County. With other offices located throughout Florida, and a network of registered process servers throughout the country, documents can be served anywhere in the United States.
Call Us at (305) 330-1855 or Email Us at [email protected]
Courtesy Process Servers Miami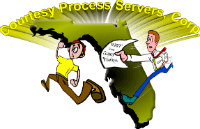 Hours of Operation:
Open 24 hours a day
7 Days a Week