About Courtesy Florida Process Server
Courtesy Florida Process Server Miami for All Your Service of Process Needs.
When choosing a process server, reputation, efficiency, and promptness are important.
Twenty-seventy years ago, Jerry Garcia, owner and chief process server, set out to create Courtesy Process Servers—a company that could deliver just that. Recognized for our exceptionally fast and accurate service, Courtesy Florida Process Server Miami is a full-service process-serving company.
We are open 24/7 to satisfy all your process-serving needs. Our registered and licensed staff handles most requests within 48 hours and same-day rush turn-around is available.
Our private process servers take pride in their craft. We work hard to provide you with prompt, courteous, and efficient service of process every time. We're here to help you, the legal community, and those acting "pro se" to get their important documents delivered to the right person(s) or entities in a fast, professional and affordable manner.
Courtesy Florida Process Server Miami is a company based in Miami, Florida. We deliver civil processes such as subpoenas, petitions, summons and complaints, notices, writs, and various other documents.
Choose Courtesy Florida Process Server Miami for exceptionally fast service anywhere in the country and is available 24 hours a day. Choose Courtesy Process Serve and skip the process. Experience what others already have—courtesy in process serving.
Call Us at (305) 330-1855 or Email Us at [email protected]
Courtesy Process Servers Miami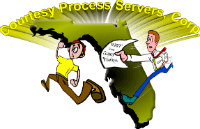 Hours of Operation:
Open 24 hours a day
7 Days a Week