Services Offered at Courtesy Process Server Miami
Courtesy Florida Process Server Miami does more than just serve papers:
Process Serving
Rush service is our specialty, with rush turn-around available!
Skip-Tracing for Process Servicing
Able to Execute "Hard Serves"
Real-time service status updates are available online, or by phone or email if preferred.
Papers may be served anywhere in Miami-Dade County and the U.S. by licensed and registered process servers.
Reasonable Rates! All major credit cards, checks, money orders or cash are accepted.
Prompt Service and Speedy Return of Affidavit of Service
Miami Dade County's Mobile Notary Service
Serving ALL of South Florida Since 1996
Short Notice and Last Minute
COURTESY MOBILE NOTARY SERVICES is here for you when you need a Notary Public who are experienced, professional, knowledgeable and reliable, and available when you need it!
** Specializing in Same Day Service **
I'm familiar with: Assumptions, Annuities, Auto Signings, Construction, Conventional, Commercial, Foreclosures, Hybrid, Reverse, Refinances (including FHA, VA), REO, Remodeling, SBA, Time Shares, USDA, and more.
Fidelity Approved Notary
Bilingual in Spanish & English.
First American Title Approved Notary
Investors Title Approved Notary
NSA Certified Signing Specialists
NNA Certified Signing Agent
I accept documents via email or overnight. We will represent your company with promptness, white glove service and professionalism. Available 24-7.
We cover all of Broward, Miami Dade and Palm Beach Counties.
I would be very interested in working for you.
Thanks for your interest in our services.
Courtesy Process Servers Miami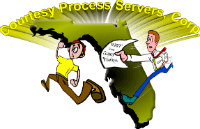 Hours of Operation:
Open 24 hours a day
7 Days a Week
Documents may be submitted to Courtesy Florida Process Servers Miami at any time because we're always open.
When submitting any documents, please include what type of service is needed, such as standard or rush service either with the submitted documents or call us at (305) 330-1855 with a request. Service request forms are available upon request.
Mail or Overnight Documents to:
(877) 490-0025
Include a cover sheet with the type of service needed.
Courtesy Process Servers accepts all major forms of payments.
To pay with a credit call us at (305) 330-1855. We accept Visa, Master Card, American Express, and Discover. Credit card authorization forms are available upon request.

Make checks payable to Courtesy Process Servers. Include your phone number on it.
Pay with PayPal.
Thank You for Doing Business With Courtesy Process Server in Miami.
Frequently Asked Questions
Documents may be emailed, mailed using the U.S. Post Office, sent overnight, and/or facsimiled to Courtesy Process Servers.
Documents can be submitted at any time because Courtesy Process Servers Miami is open 24/7.
As soon as a document is received it is sent to our licensed process servers, skip-tracing, or research specialist for immediate handling. The state of Florida requires that all process servers are registered and licensed.
Because of Courtesy Process Server's local offices in Florida and network of licensed process servers throughout the country, papers may be served anywhere in the U.S.
Papers are usually served within the first 48 hours, and the completion of the task depends on the availability of the dependent. Same-day service is also available.
Law firms and individuals going through a divorce or any other legal issue may use Courtesy Process Servers. Contact Courtesy Process Servers to see if you need a process server.
Users may log into the site and track their claims. Courtesy Process Servers will also contact you either by phone or email to keep you updated.
All major credit cards, checks, money order, and cash is accepted. 
Courtesy Florida Process Servers Miami is proud to offer the following resources: